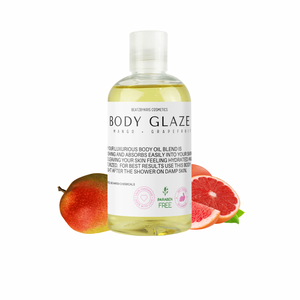 Mango + Grapefruit Body oil
Enjoy Our  luxurious body oil blend is nourishing and absorbs easily into your skin, while leaving your skin feeling hydrated and moisturized.  
For best results use this body oil right after the shower on damp skin.  
Your skin will be thanking you later.
How to use:
Pour a dime size in the palm of your hand and distribute evenly over your whole body after the shower. You will feel the oils absorb quickly and easily into your skin.
Size: 4oz
Ingredients 
Safflower Oil, Grape seed Oil, Jojoba Oil, Vitamin E, Fragrance