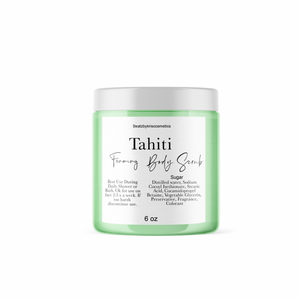 Tahiti Foaming Body Scrub
Ingredients:

Organic Sugar, Distilled water, Sodium Cocoyl Isethionate, Stearic Acid, Cocamidopropyl Betaine, Vegetable Glycerin, Preservative , Pigment , Frangrance
Omg!!
I love this body scrub!!! Smells very light and clean and would work for a man or woman. Definitely a must try!!
I love it
It's not 2 harsh n it smells great my skin so soft thank u
Smells great!
Smells amazing! I have sensitive skin, and it doesn't break my out or make me itchy. Leaves skin super soft and feeling great!
Great On My Skin
As a male! I use this product frequently now. It feels and smells good on my skin. Great for face also.
Highly recommend
This foaming body scrub is amazing! I love the scent it's fresh and unique I never smelled anything like it. The texture is smooth and it lathers up well leaving your skin smooth and clean. I'd highly recommend if your looking for a unique texture and freshly scented body scrub!!